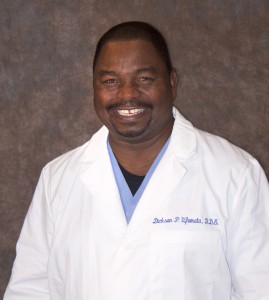 Dickson Ufomata, DDS, FFDRCS
Dr. Ufomata received his dental education from the University of Lagos, Nigeria, the Royal Colleges of Surgeons of England and Ireland, and the University of Kentucky. He has practiced and taught Dentistry in England, Nigeria, and the United States. Dr. Ufomata is a graduate of the University of Kentucky's College of Dentistry General Practice Residency program and is a fellow of the Faculty of Dentistry, Royal College of Surgeons in Ireland, FFDRCS, Ireland.
Dr. Ufomata has over 30 years of excellent clinical dental experience. His goal as a dentist, and the goal of all the dedicated staff at Leestown Dental Center, is to make our patients' visits as pleasant and painless as possible. Dr. Ufomata belongs to several professional associations including the American Dental Association (ADA), Academy of General Dentistry (AGD), and the American Academy of Cosmetic Dentistry, to name a few.
Meet Our Team
Samantha -Registered Dental Hygienist
Samantha graduated from Youngstown State University in 2006 with practice as a dental hygienist in Kentucky, Ohio, and Pennsylvania. She is also certified to administer local anesthesia and nitrous oxide. Samantha joined our team in 2011. Her favorite part of our practice are her patients – she loves establishing relationships while doing what she enjoys, and her passion for our patients and patient education contribute to improved health, especially with periodontally compromised patients.
Samantha is married to Bryan. Her family has a strong background in dentistry; her brother is a dentist in Ohio, and her mother is also an RDH. Samantha's hobbies include live music, traveling, sight-seeing, theatre, and visiting out-of-town family.
Tera – Expanded Duty Dental Assistant
Tera graduated from the Institute of Dental Technology in June 2014, and has been with our practice since March 2017. Her goal is to eventually attend dental school to become a DMD. She strives to do her best in everything she does, and is always looking for ways to learn new things. Tera's favorite thing about being part of our team is how helpful everyone is – we work as a team and we always work together.
Tera lives with her boyfriend of a year and a half and with a cat that is spoiled rotten. In her free time, she enjoys playing softball.
Megan – Hygienist Assistant
Megan is from Versailles, KY, and graduated from Woodford County High School. She spent a few years attending Eastern Kentucky University while living in Richmond, KY, and recently moved back to Versailles. She has been with our team for 1 year. Megan keeps the hygiene side of our practice flowing smoothly, assisting with appointments, cleanings, X-rays, and anything our dentist and other hygienists need. She enjoys helping anyone that she can.
Megan married her husband, Daniel, in July 2017. She loves to tie dye, ride in their off-road vehicle, and play with their dog, a boxer named Missy.
Leigh Anne– Dental Hygienist
Leigh Anne attended high school at Bryan Station, and graduated from Lexington Community College in 1992. She joined our team in April 2015. Leigh Anne is licensed to administer local anesthesia and nitrous oxide. She enjoys attending continuing education courses to stay current on the latest trends in dentistry. Leigh Anne knew when she was 9 years old that she wanted to be a dental hygienist, and has never regretted this decision. She believes that everyone can and should have a positive dental experience, and that patient comfort and education are essential aspects of dental care. She loves being part of a team that genuinely cares about our patients and improving their health.
Leigh Anne and her husband of 21 years, Paul, have 7 dogs and a flock of sheep. They live on a small sheep farm, and compete in sheep dog trials. She plays the fiddle, and is a member of the Chaplin Christian Church Praise Team. Leigh Anne enjoys jamming with friends, playing Gospel, Bluegrass, and Old Country music.
Brittney – Dental Assistant & Lead Expanded Duty Dental Assistant
Brittney graduated from the Institute of Dental Technology in April 2014, and has been with our team for 3 years. She works hard to calm patients who experience anxiety, make crowns and bridges, care for our orthodontic patients, and help our practice run smoothly. Her favorite part of our practice is that our team gets along like family and can always count on each other. Outside of the office, Brittney's hobbies include cooking, baking, traveling, going to concerts, and spending time with family.
Angela – Business Assistant
Angela has been with our practice since 2017, and has a number of certifications, including Interpreter Bridging the Gap in English/Spanish, a Certificate in Secretarial Duties, Health Promoters (AHEC) ISOL. She works hard to help the Hispanic community understand the importance of maintaining good oral hygiene, showing a friendly face and making them feel comfortable while helping them understand their dental needs. Angela really loves working at our office and being part of our dental family. Dr. Ufamota is an excellent dentist, and she learns from him every day.
Angela has a lovely family, consisting of her husband Francisco and their 4-year-old daughter Sophia. She also works as a Zumba instructor, and enjoys hiking, photography, camping, cooking, and spending time with her family.
Wendy – Office Manager
Wendy started with our practice in 2017, and has significant experience in the dental field, having worked as a dental office manager for 15 years, and as an RN prior to that. Wendy is always available to answer questions and concerns, and works hard to put our patients and team at ease. She loves that our dental family works well together and is always available to help.
Wendy has 2 children and 2 grandchildren. Her hobbies include traveling, spending time on the beach, swimming, and visiting historic places.